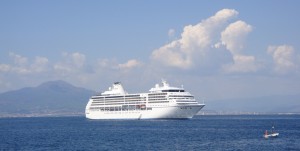 Prestige Cruises, parent company of Oceania Cruises and Regent Cruises, revealed more details regarding the ship they're building in their IPO filing to the SEC this week. Skipping over the blah-blah to the juicy bits:
How long must I wait? Regent's Seven Seas Explorer will debut in the summer of 2016.
The rooms: Of course, she will be another all-suite, all-balcony ship, but the suites will range from 300 to a ginormous 3,500 square feet.  (Reality check: the 2-bedroom Master Suite on the Seven Seas Mariner is 2,002 square feet including both balconies.)
The food: She will have SIX gourmet dining venues. I'm sure the popular Prime 7 will be among them.
Fear not: She will have an expansive Canyon Ranch SpaClub.
Size matters: She will be 67,000 gross tons and accommodate 750 guests. That gives her a space ratio of 89.3 (beating out Hapag Lloyd's Europa 2 ratio of 83) and she'll have a crew-to-guest ratio of 1 to 1.4.