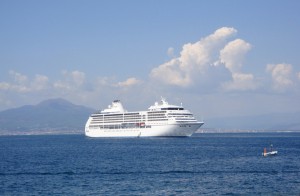 Regent Cruises has just announced a new ship order. My favorite ship (Seven Seas Mariner) is finally getting a sister, and she sounds fabulous!
For 738 guests (just a bit more than the Seven Seas Mariner and Seven Seas Voyager), the new ship will be named Seven Seas Explorer and will be the luxury line's third all-suite, all-balcony ship. At 54,000 gross-registered tons (Mariner is 48,075), Seven Seas Explorer will be the largest vessel in the Regent Seven Seas Cruises fleet. The contract price for the vessel is approximately US$450 million, making Seven Seas Explorer the most expensive luxury liner ever built.
"This new ship order represents an exciting time of growth for our company as we build the next generation of cruise ships for the world's most inclusive luxury cruise line," said Frank J. Del Rio, Prestige Cruise Holdings Chairman and CEO. "Seven Seas Explorer will be the most luxurious cruise ship ever built, boasting one of the highest space ratios and staff-to-guest ratios ever seen in the modern era of cruising enabling us to deliver the highly personalized service and extraordinary experience that is the hallmark of the Regent brand."
Prestige took over the line from Radisson in 2008 and they've made really smart improvements with the existing fleet. My last cruise on the Mariner was in 2009, and I just got back from cruising Alaska on the Seven Seas Navigator. This time the ONLY thing I could find to complain about was the canned music in the elevators (and I was looking!). I can't wait to see what they will create from scratch (Summer 2016, sigh). Here's a link to the Press Release.